At the "middle" of Lake Como, where its two branches divide, Bellagio (pronounce baal-lah djou) is a rather exclusive destination amidst villas and gardens.

The 19th century neo-classical Villa Melzi has a large park with azaleas, and a small museum.

European monarchs used to reside in the 18th-century Villa Serbelloni, supposedly built on the ruins of Pliny the Younger's home. At present Villa Serbelloni houses the Rockefeller Foundation.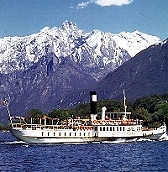 North of Milan.
100 km from the city.
Take highway A9 E35 to Como (km 46), then the tortuous but spectacular road 583 to Bellagio.

You can sail the Lake Como on boats and hydrofoils run by Navigazione Laghi.