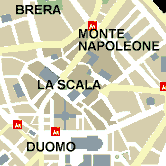 [location is blinking]
clickable map
printable map


Milan Tours through Viator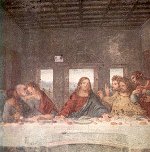 Double-deckers? The San Siro stadium? The Last Supper?
Reserve a bus or a specialized tour through our partner Viator.


No drinking, we're underage!



Be careful: starting July 18 2009 teenage drinking is prohibited all across town and anyone who supplies youths under the age of 16 with alcohol - either wine or spirits - will face punishment.
The Milan City Council was among the first to introduce a regulation of this kind in Italy.
Whether you agree or disagree - at CiaoMilano quite frankly we find it a little over the top - please keep in mind that a fine of up to €450 will be imposed on the parents of offending children and on shopkeepers or bar owners who serve them.
.:.

The central tourist office IAT (Informazioni e Assistenza Turistica) is at Piazza Castello 1. It's currently open Mon-Fri 9am-6pm, Sat 9am-1:30pm and 4-6pm, Sun and holidays 9am-1:30pm and 4-5pm.
Tel. [+39] 02 77404343, fax [+39] 02 77404333, e-mail.


subway: Cairoli (line 1 red)





.:.

At the Central Railway Station the tourist office (first floor, where trains arrive and leave, tel. [+39] 02 77404318) is open Mon-Sat 9am-6pm, Sun and on holidays 9am-1pm and 2-5pm.


subway: Centrale FS (line 2 green and 3 yellow)





.:.

Sightseeing bus tours of Milan throughout the year are organized TueSun by Autostradale. Departures (and tickets) at 9:30am from the central tourist office IAT (April-July and September-October also at 3:pm). The tour lasts three hours, and the ticket price includes entrance to the Last Supper (morning tours).



.:.

Tours by bus and on foot are organized TueSun by Zani Viaggi. Departures at 2:30pm from Foro Buonaparte 76 (Piazza Castello). The tour lasts three hours and the ticket price includes a visit to the Duomo and entrance to the Last Supper.



.:.

Rides by open-topped double-decker bus organized by Zani Viaggi depart daily from Piazza Castello (every hour 9:30am-4:15pm). The tour lasts about one hour and the same ticket (valid 24 hours) allows you to get off at any stop and catch another bus later.



.:.

Excursions by boat along the Navigli canals are scheduled on weekends from April 25 through September 30. Ask at the Tourist Office IAT or visit the Navigli Lombardi website.