Closer to Pavia than to Milan - along a canal connecting the two towns - the building of this charterhouse began in 1386 by order of duke Gian Galeazzo Visconti. It was intended to be both a Carthusian monastery and a sepulchral church for the Viscontis.

The church of the Certosa (pronounce Tschar-toh-sah) has a unique ornate façade and beautiful works of art.

From inside the church you enter a small cloister, from which you pass into a much larger one, with its whole complex of cells as comfortable as was fitting for a religious order whose monks dedicated their life to study.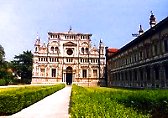 South of Milan.
Less than 30 km from the city.
Take road 35 towards Pavia, along the Naviglio Pavese canal.

map