In order to fight any further diffusion of
COVID-19
, people are advised to be very cautious when meeting others, even outdoor. A
distance of a meter or so
must be kept - and a
face mask
(better if surgical) worn - in case of any personal encounters.
.:.
Though Milan and Lombardy are still at risk, some behaviours are allowed starting from Monday, February 1st. Shops may open. Bar and restaurants may serve till 6pm. Most museums have reopened, but cannot be visited during the weekends. Theaters and cinemas are closed. Curfew 10pm-5am anyway.
.:.
Official news at the
YesMilano
website.
Halfway between Mantova and Parma is Sabbioneta pronounce Sahb-beeo-na-tah), also called "little Athens", a village entirely rebuilt as an utopian city between 1560 and 1591.

A gem in the history of urban projects: its Signore, Vespasiano Gonzaga, built here not only fortifications, gates, schools, but also a large frescoed palazzo, his own splendid residence, a church with his mausoleum and, to a project by Vincenzo Scamozzi, the remarkable Teatro Olimpico, or Olympic Theater.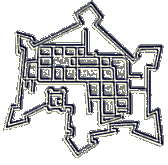 East of Milan.
Some 150 km from the city.
Take highway A1 E35 (towards Bologna) to Parma (km 120), then roads 343R to Casalmaggiore (km 20 from Parma) and 420 to Sabbioneta.

map