A classic Milanese excursion is to the region of the Lakes, north of Milan. The closest is Lake Como (Koh-moh), which is shaped like a kind of inverted Y. It has a long history and really lovely natural and artistic sights.

Some 30 km north of Milan, the town of Como was for several centuries one of the most important silk manufacturing centers in the world, and it's still famous for this reason. The original architecture of the cathedral and of the nearby picturesque Broletto dates back to the 14th century.

Even more interesting is the 12th-century Romanesque church of Sant'Abbondio. The splendid International Style building in front of the apse of the cathedral is the former Casa del Fascio by Giuseppe Terragni (1932-36).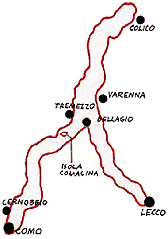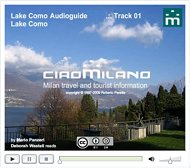 The
Lake Como
route

North of Milan.
Some 40 km from the city.
Take highway A9 E35.
You can
sail
the Lake Como on boats and hydrofoils run by
Navigazione Laghi
.

map