One of the largest Gothic
cathedral
in the world, Milan's Duomo has a population of 6,000 statues, a solemn and lofty interior resembling a sequoia forest, giant multi-colored stained-glass windows and works of art to make any museum green with envy.
It's the seat of the one and only
Roman Catholic
diocese which - following its patron,
Sant'Ambrogio
still keeps to an ancient calendar of its own. Which is why Milan is still going wild with its Carnival when the rest of the world has started Lent...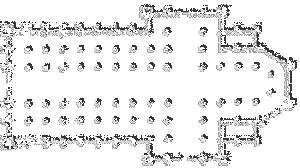 Take a walk outside, around the back of the enormous church, your nose pointing skyward to admire the interplay of pinnacles and buttresses. Then go to the top floor of laRinascente department store and look at the spires face-to-face.
You can also take a lift to the cathedral's
roof
- to scan the city from above - and visit, now that it has been reopened, the
Museo del Duomo
, or Cathedral Museum.
Climbing to the roof and entering the church are on payment. Fares go from Euro 4 to Euro 22.